Happy Friday!! I'm going to get right down to the takes today!
1.) I love love LOVE to travel! I love road trips, and would much rather drive to my destination than fly. I usually take a "car bag" with me, loaded up with everything that I need for the drive, without having to pull it out of my suitcase. My "car bag" is usually my Vera Bradley Laptop Backpack. (seen here in Plum Crazy)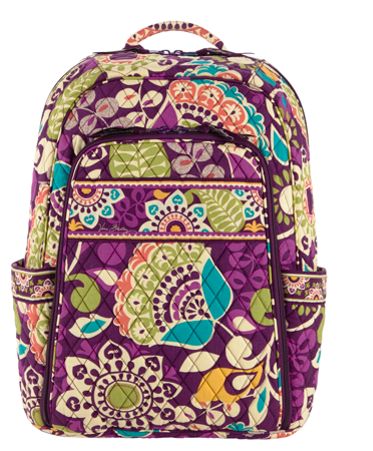 I load this baby up with books, snacks, cough drops, band-aids, sun screen, any tech-y thing that I may need. Sunglasses, you name it! This is the perfect travel bag! 
2.) I read in the car….and have been known to finish a few books while on vacation. I love it, but I have to pace myself so I take ONE book and my Kindle. This year my one book will be Les Miserables, and everything else is on my Kindle. Some of the titles on my Kindle are:
While We Were Watching Downton Abbey, Code Name Verity
(as recommend by Janssen)
,
The Heiress of Winterwood
just to name a few. 
3.) When on a trip I take tons of pictures. I don't do anything with them right away though. I'll take 5 of 10 pictures of the same things from different angles, different perspectives, or different light. I clean out the camera at the end of the day. The ones I don't like I delete and the ones I do like I'll upload to the computer that night and get them off my memory card to create more space for the next day. This method has always worked for me…and depending on the length of my trip I could get prints at Walgreen's each day if I wanted to. 
4.) I pack light. I pack (depending on the length of the trip) 4-6 shirts, 5 pairs of pants, 4-5 cardigans or jackets, and 2 pairs of shoes. I can mix and match items to create tons of outfits this way. It makes packing much easier, makes my bag lighter, and gives me room for souvenirs on the way home. If I need to (and have facilities available) I can do laundry in between, but this just makes for a much easier packing situation. 
5.) When I travel, I love having a cross-body purse. It keeps my hands free, I can feel it against my body, and mine holds a ton! I love that I can go to a market and not worry about where my bag is, I can carry packages, and I don't have to set it down in a restaurant. I love the new
Vera Bradley Convertible Cross-Body (seen here in Limes Up)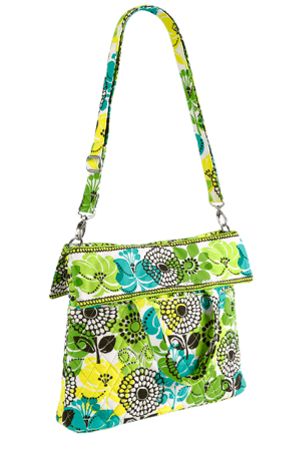 This is my favorite travel bag! 
6.) Favorite road trip destinations include: Washington D.C, Pittsburgh, St. Louis, Boston, and Savannah. 
7.) As always, I'm linking up with Jen and the rest of the crew. Head over to
Conversion Diary
to check out more Quick Takes!
Have a fantastic weekend, and I will see you again in about two weeks! 
Blessings, 
Megan